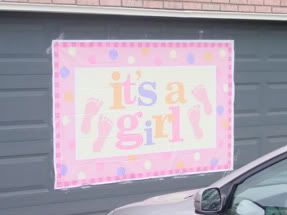 We're finally home! We were released from the hospital around noon yesterday, and were greeted by this sign on our garage door - how nice was that?

Everyone is in great health! Christy Lake only lost 6 ounces before leaving the hospital, so it should not take any time at all for her to regain that weight and grow, and grow, and grow! Christy has been recovering well herself - she's been on her feet some, but keeping her feet off the floor for the most part. What about Dad? Well, I'm getting used to getting up every 3 hours or so to help Christy feed - I wouldn't miss it for the world!


This morning, we let Christy Lake try out her new swing - it put her to sleep in no time! Look at all of that dark hair and she has a wonderful complexion. She sleeps well between feedings, and is very well mannered when she is awake. More pictures to come soon!