Watch this amazing 7 minute time lapse video showing the complex logistical achievements of Airbus in constructing the new A380.

I am uncertain of the time frame that actually takes place, but the ballet of workers that coordinate and place this monster together sure make it look easy!!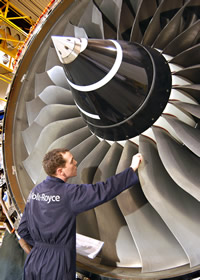 Just look at the torque wrenches being used to attach those Rolls-Royce Trent 900 engines! I'm particularly impressed with those large main gear mechanisms. The doors are quite complex - a great challenge for anyone wishing to recreate them within an environment such as Flight Simulator.

I'm not too much into heavy iron, but I just find this aircraft to be simply amazing in design and aeronautical achievement. This aircraft is something that was illustrated as a hypothetical "cruise liner of the sky" in Popular Mechanics and Popular Science magazines that I often read in my younger years. I never really thought would become a reality. I guess that's what I get for thinking.