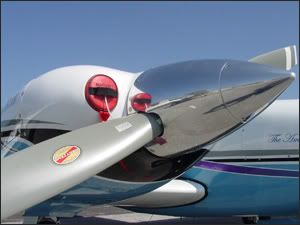 The sky was Carolina Blue and the air crisp. Roy and I departed KGRD around 10am or so and headed due south to KDNL, Daniel Field. It's only about a 20 minute flight (when you're cruising at 165 kts) so we contacted Augusta Approach about 5 miles out from the field for traffic and advisories. They informed us of several inbound aircraft for Daniel, and we quickly started panning the sky for them. Once we had the field in sight, we called approach and they cancelled radar service. There were about 4 inbound aircraft that we saw, one of which was a old Bell Huey (which we later found to be giving rides). Two were ultralights, and one was a Cessna 150. We quickly outran the 150 in the pattern, passing it on the downwind leg for runway 23. Roy's Twin Comanche takes a pretty good roll out to get slowed down, as we usually set her down around 90 kts.

We taxied into a parking spot as directed by a bunch of volunteers wearing day-glow orange hats. After securing the aircraft, we decided to do some walking around before the crowds appeared. There were surprisingly a lot of general aviation aircraft on static display, and I even saw a Cessna Skylane with a G1000 avionics package. Very impressive!

The airshow began around 1pm or so, with parachutists dropping with the American Flag and the singing of the National Anthem. We saw a lot of good performers: Gary Ward, Firebirds, Gene Soucy, and Manfred Radius. For most of the show, Roy and I stuck pretty close to N204WT, as Roy was often bombarded with statements such as ... "you won my aircraft!" ... or "...how did you win that!?" It's a one-of-a-kind aircraft, for sure!

The show was over around 4:45pm and the police quickly began hearding the crowds toward the exit (I've never seen this before at an airshow). It was a nice thing, though, because it made it really easy for us to get out of there and not worry about hitting anyone. Around 7 aircraft were all lined up to depart the field, and we were last. It didn't take very long though, as they launched one aircraft every minute or so, giving us just enough time to do a proper run up.

The flight back was uneventful, aside from the glaring sun staring at us when we were making our approach into runway 27. Thirty minutes later, the aircraft was refueled, towed, and stored back in it's home in hangar 49 ... whew!

Thanks for allowing me to tag along, Roy! It was a great day!