After weeks of research, Eaglesoft Development Group is pleased to announce with the release of the Cirrus SR22 for FSX that digitally signed gauges have arrived! When the aircraft is loaded for the first time in FSX, this window will appear: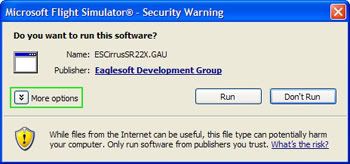 Select the more options tab.



Tick the "Always run software from 'Eaglesoft Development Group'" and then...



Click on Run. You will never have to approve any other gauges from Eaglesoft Development Group. How cool is that? I'd like to commend Ron and Bill for implementation of this!